news & press releases
NEW MUSIC
O&AL's 2012/2013 releases are now available online and in stores. Check out the band's newest releases on the music page, where you can stream the seven-song EP, Hard Times, and the three-song 7inch, It's Alright . You can also purchase digital copies of all the songs for $1 each via the band's bandcamp page. The new songs were recorded with bandmate Simon Larochette at his studio, The Sugar Shack and were mixed and mastered by Dan Weston. Below is the cover art for both new releases.



The paintings featured throughout the EP are the work of Trevor Kyle Carter. Please look through his website for some more examples of his artwork.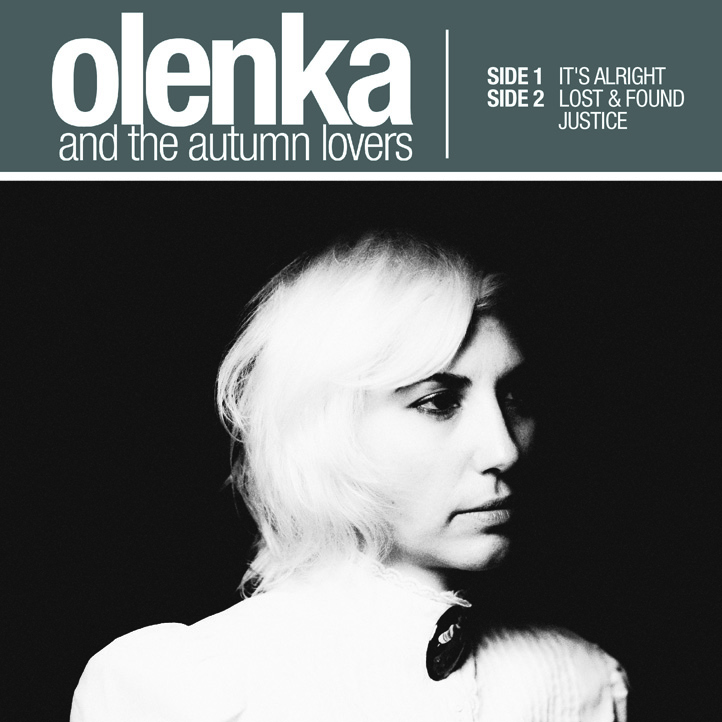 The photographs on the front and back covers of the 7inch are the handiwork of Cory Downing. Visit his website for some more examples of his work.
CBC's Vinyl CafE & Q
O&AL were featured on a broadcast of The Vinyl Cafe in which Stuart McLean et al. explored the ups and downs of the winter season. The song "Northern Lights" - from the 2008 self-titled, full-length album - was played alongside a number of stories and songs depicting the varied ways in which we come to terms with the season and its mood.
O&AL performed as Q's live music guests on Friday, March 11th, 2011 with guest-host Jann Arden.
Maggie Howie
Olenka Krakus penned the song "Maggie Howie" which she performed with Autumn Lover Sara Froese as their contribution to Henry Svec's compilation Folk Songs of Canada Now. The song was recorded in London by Andrew James and features ambient background sounds courtesy of London traffic, Sara's cat, and Mr. Svec himself. Folk Songs of Canada Now offers up a collection of modern field recordings, showcasing the sometimes silly, often poignant, stories of a seemingly modern yet timeless era, and featuring a number of Canada's finest artists. It can be downloaded for free here.

Check out this stellar review of the album.


Olenka & Lightfoot
Olenka has contributed a cover of "Rainy Day People" to a compilation of Gordon Lightfoot songs put together by the fine folks at Herohill. You can download your FREE copy of the compilation at this link.
JRMAs
O&AL won the 2012 Jack Richardson Music Award in the Traditional Folk/Roots category in April 2012. Olenka Krakus won the 2011 Jack Richardson Music Award for Contemporary Singer/Songwriter in April 2011. O&AL won the 2010 Jack Richardson Music Award in the Traditional Folk/Roots category in April 2010.
Olenka's CBC Radio 3 Podcast
Olenka features a number of London bands/artists in her CBC3 podcast. Take a listen here.
Polaris Prize 2011 Jury Picks
A number of Polaris jury members included And Now We Sing as one of their top five picks for the 2011 prize. Mark Rheaume of CBC Music Resources explains: "My 'under the radar' choice from my list is Olenka Krakus, a highly original, quirky songwriter who crafts great tunes." Read more...

And Ryan McNutt from Halifax explains that although the album didn't make it into the official long list, And Now We Sing was still "a real sentimental favourite. There [were] a lot of great folk/country albums in the field this year, but for my money none were as varied, or as powerful, as that one." Read more...
blog
NXNE SHOWCASES - Thurs. JUNE 13th
The band will be playing at NXNE this year. Our official showcase is on Thursday, June 13th at The Great Hall at midnight, with Coer De Pirate and Fanny Bloom. We'll also be playing a Live in Bellwoods showcase at Bellwoods Park at 4pm. More details coming soon!
TOUR FOOTAGE
During our 2012 autumn tour, we had a chance to record with some audio/video engineering students at McGill for their Audiolens video series. Here is the final edit of "Don't Make Sense".



London ALbum Release Show FOOTAGE
Our album release show was a great success and we'd like to thank Firehorse (local brainchild of Daniel Mancini) and Jenny Berkel, both of whom were gracious enough to share the stage with us. The performance was captured on video by Ben Srokosz for his Spur of the Moment video blog. Ben recorded and edited the footage (with the help of Jonathan Abrosimoff on second camera and Bob Hulme on sound), and here is the result: the final cut of "Hard Times" and "Winterlude"!


OLENKA SKATEBOARD!
There's a skateboard out there named after the band! It's the handiwork of LMM and was inspired by our music and Trevor Carter's artwork (Trevor is responsible for the bird images that adorn the skateboard; they were originally a part of a tour poster that we had made up for our 2011 Summer Tour). Wow! What a treat!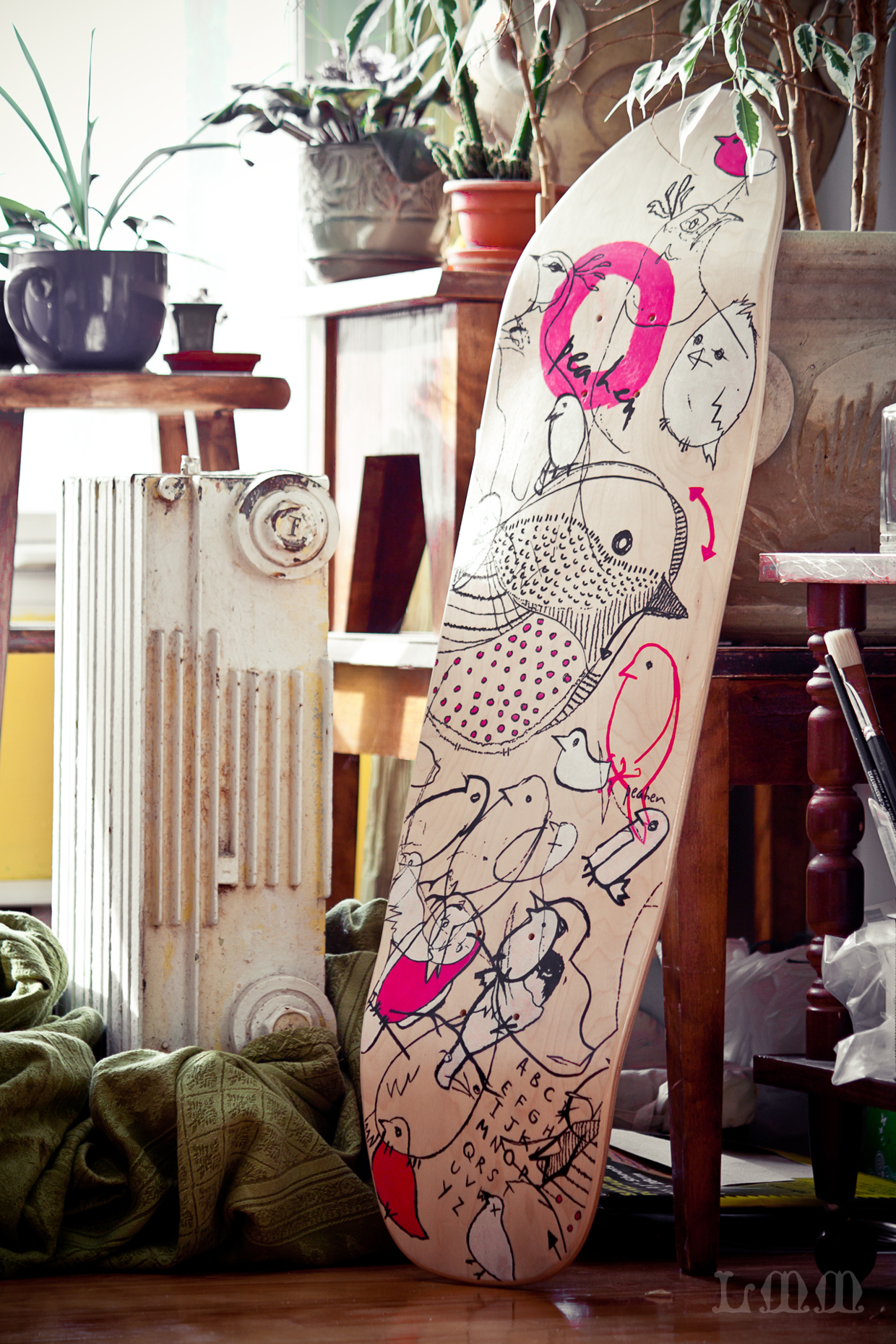 October 2012 tour
Our October tour was full of beautiful sights, some great meals, and as always loads of friendly faces. The following videos for "It's Alright" and "Grey Morning" were shot with Sebastien Ouellet and his team, Antoine Bordeleau (editing) and Simon Paradis (sound), while in Quebec City on Thanksgiving. These are three very talented, funny, and passionate guys, and we're indebted to them for their efforts.


Olenka And The Autumn Lovers - It's Alright | A City By The River from A City By The River on Vimeo.


Olenka And The Autumn Lovers - Grey Morning | A City By The River from A City By The River on Vimeo.
Connie Converse Cover
Some time last winter, I recorded a cover of a Connie Converse song. A media studies grad student in New York, by the name of Andrea Kannes, is putting together a documentary on the little-known folk musician, and has posted the song on her website. Check out the recording at this link.
o&AL
@olenkalovers