news & press releases
LATEST MUSIC
Yes it's true. We're recording in fits & starts and are slowly getting going on a new album, featuring the Vancouver musicians who have been a part of the project in the past year. More details will be released in due time.
RECENT RELEASES
O&AL's 2012/2013 releases are available online and in stores. Check out these releases on the music page, where you can stream the seven-song EP, Hard Times, and the three-song 7inch, It's Alright. You can also purchase digital copies of all the songs for $1 each via the band's bandcamp page. The songs were recorded with Simon Larochette at his studio, The Sugar Shack and were mixed and mastered by Dan Weston. Below is the cover art for both releases.



The paintings featured throughout the EP are the work of Trevor Kyle Carter. Please look through his website for some more examples of his artwork.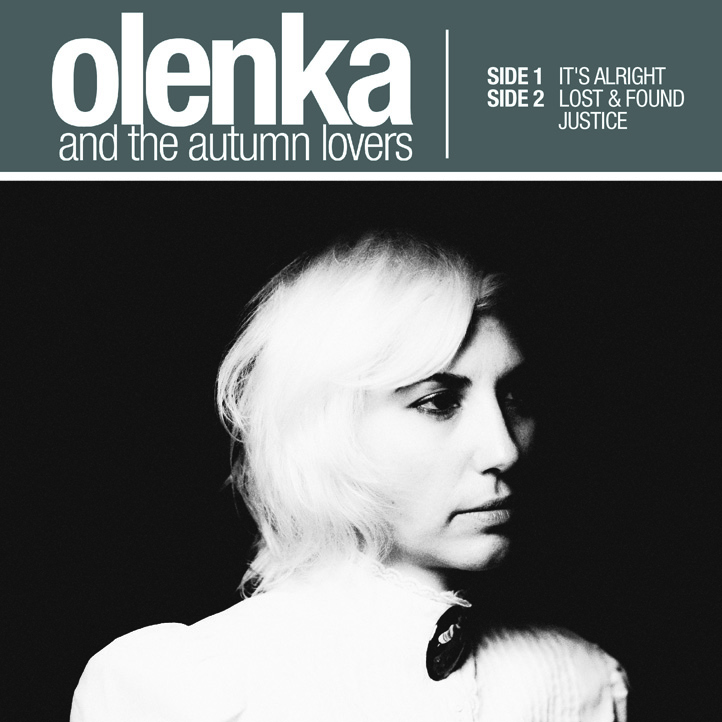 The photographs on the front and back covers of the 7inch are the handiwork of Cory Downing. Visit his website for some more examples of his work.
CBC's Vinyl CafE & Q
O&AL were featured on a broadcast of The Vinyl Cafe in which Stuart McLean et al. explored the ups and downs of the winter season. The song "Northern Lights" - from the 2008 self-titled, full-length album - was played alongside a number of stories and songs depicting the varied ways in which we come to terms with the season and its mood.
O&AL performed as Q's live music guests on Friday, March 11th, 2011 with guest-host Jann Arden.
Maggie Howie
Olenka Krakus penned the song "Maggie Howie" which she performed with Autumn Lover Sara Froese as their contribution to Henry Svec's compilation Folk Songs of Canada Now. The song was recorded in London by Andrew James and features ambient background sounds courtesy of London traffic, Sara's cat, and Mr. Svec himself. Folk Songs of Canada Now offers up a collection of modern field recordings, showcasing the sometimes silly, often poignant, stories of a seemingly modern yet timeless era, and featuring a number of Canada's finest artists. It can be downloaded for free here.

Check out this stellar review of the album.


Olenka & Lightfoot
Olenka has contributed a cover of "Rainy Day People" to a compilation of Gordon Lightfoot songs put together by the fine folks at Herohill. You can download your FREE copy of the compilation at this link.
JRMAs
O&AL won the 2012 Jack Richardson Music Award in the Traditional Folk/Roots category in April 2012. Olenka Krakus won the 2011 Jack Richardson Music Award for Contemporary Singer/Songwriter in April 2011. O&AL won the 2010 Jack Richardson Music Award in the Traditional Folk/Roots category in April 2010.
Olenka's CBC Radio 3 Podcast
Olenka features a number of London bands/artists in her CBC3 podcast. Take a listen here.
blog
UPcoming EASTERN TOUR +
HOME COUNTY MUSIC & ART FESTIVAL
JULY 2015
We'll be heading out for a quick two-week tour in July, taking us from Vancouver to Toronto and back. Aside from hitting up many of the linchpin-cities of the good old Canadian touring circuit (taking us through the Rockies, prairies, and Ontario's insane expanse), we've been invited to our former home-town of London, Ontario to share in one of the city's most long-standing music traditions, Home County Music & Art Festival. Details for tour dates will be updated on our shows page, so please check it out. You can also get details on our FB event page.
ANTI-PIPELINE Vancouver show -
Fri. Feb. 6
One of our most recent shows in Vancouver was a benefit show for the Secwepemc Women Warrior Society who have been actively protesting the Kinder-Morgan pipeline expansion project. The show took place at the Biltmore Cabaret. Proceeds from the show went to this organization in support of their continued efforts to help raise awareness around the company's controversial plans. We participated in this show with a number of other musicians, poets, speakers, and DJs, in an effort to support those in the Vancouver community who are willing to stand up to KM's efforts to impose their will and suppress public dissent.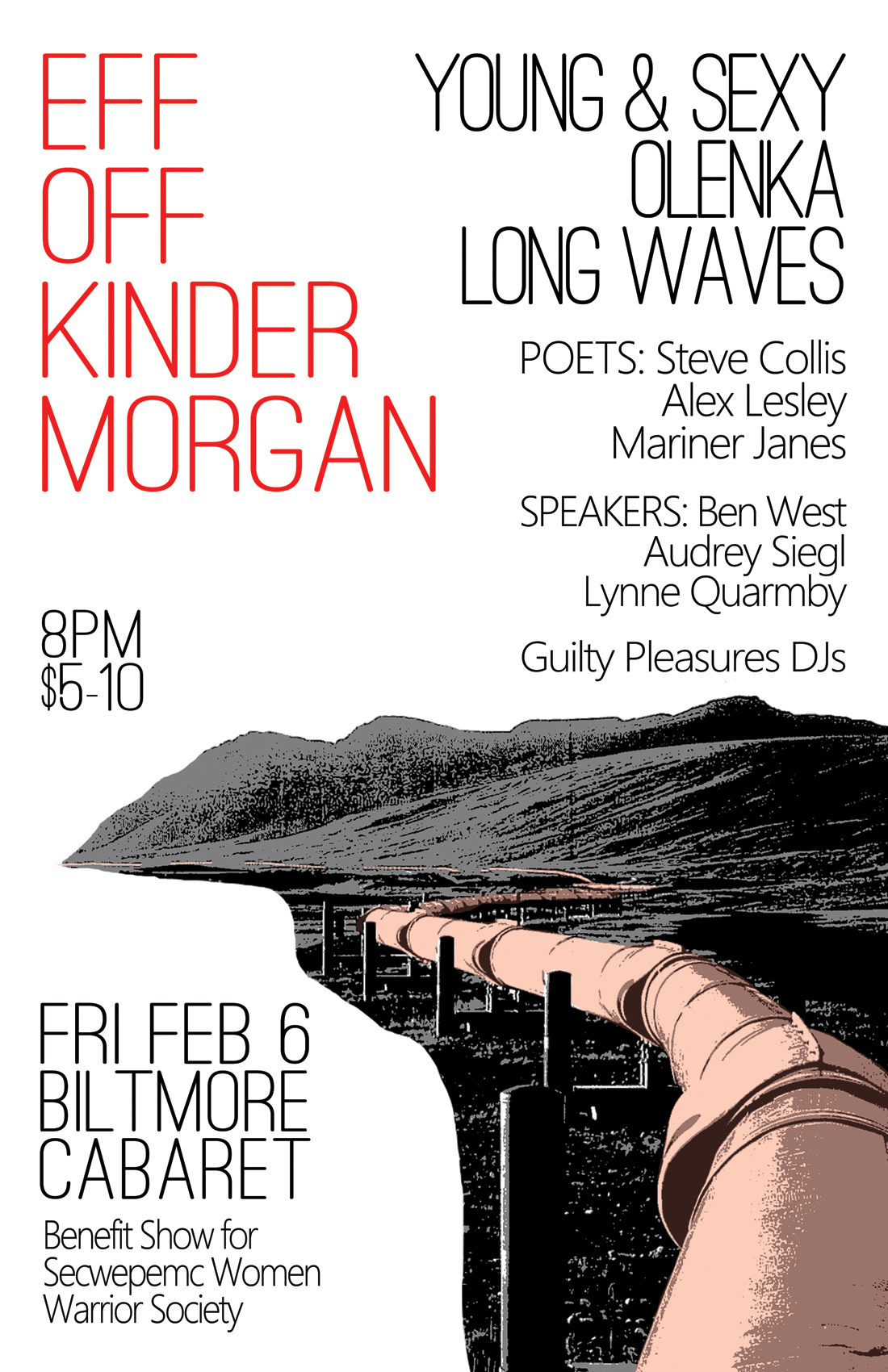 O&AL music in London-Based Doc
Our song "East End" was recently featured in a London-Ontario-produced documentary. The doc is called "25%", and it investigates women's under-representation in Canadian politics and leadership and the need to challenge and change this status quo. You can stream the documentary online at this link.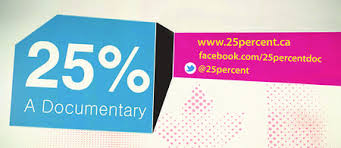 2014 VANCOUVER SHOWS
Our November shows have come & gone, but their memories will live on forever (or at least until the internet succumbs to its final, inevitable crash). The Vandocument show on Nov. 8th at the Remington Gallery was a hit! Great mix of artists. Great turnout. The Vandoc team has posted some photos from the night on their Facebook page. As for our Nov. 14th show, it was a boisterous affair, and was well captured by Vivascene in their recent review.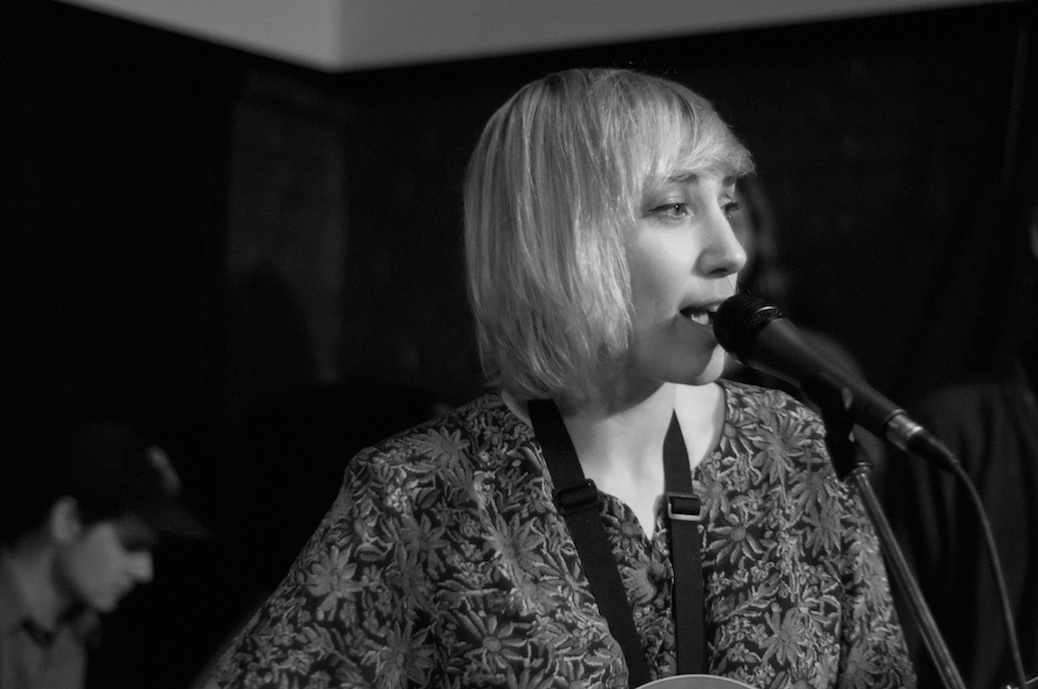 Playlist for Vancouver Is Awesome
The lovely folks at Vancouver Is Awesome asked me to put together a playlist of some local musicians, and I was happy to comply. Here's a link to the playlist, if you're interested in hearing what some current Vancouver-and-area folks are up to: VIA Olenka playlist.
FAREWELL LONDON SHOW
My farewell show in London on March 14th, 2014 was a perfect way to close off that chapter of my life. I loved how backstage was brimming with Autumn Lovers of yore, whose laughter and storytelling and catching up made the night feel more like a camp reunion than anything. The audience was warm and supportive, so much so that they were called upon at times to prompt the odd forgotten lyric or chord progression. The opener Baby Eagle offered the perfect balance of humour and insight. And the venue was welcoming and staffed by an admirable group of crew & volunteers. I couldn't have asked for a sweeter end to my official tenure in London. Thank you.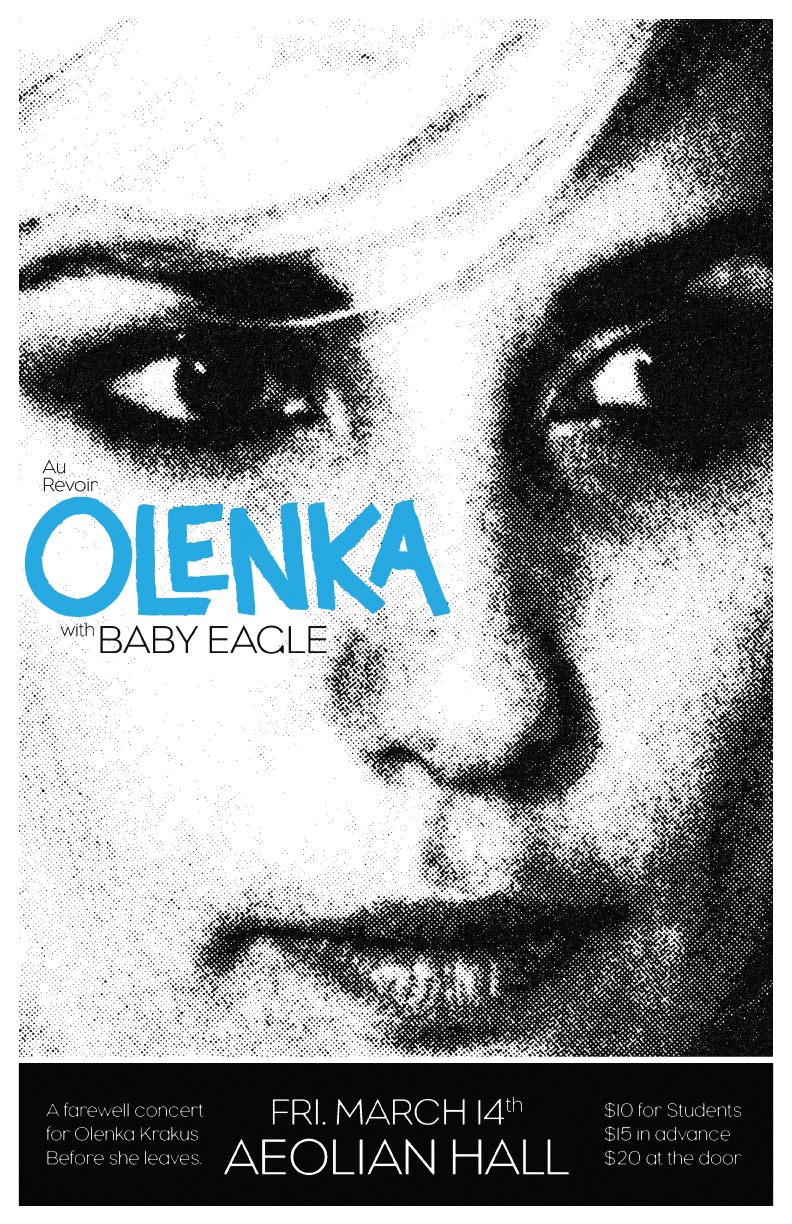 7-inch Redemption CodeS
Thanks to a few incredible fans, we were made aware of an error with our Digital Download system for It's Alright -- our latest 7-inch. If you had an issue, our system should now be fully operational. To redeem your digital copy of the record, find your download code and enter it here. If you notice any further problems, don't hesitate to contact Jeremy at jeremy.klaver@gmail.com.
OLENKA SKATEBOARD!
There's a skateboard out there named after the band! It's the handiwork of LMM and was inspired by our music and Trevor Carter's artwork (Trevor is responsible for the bird images that adorn the skateboard; they were originally a part of a tour poster that we had made up for our 2011 Summer Tour). Wow! What a treat!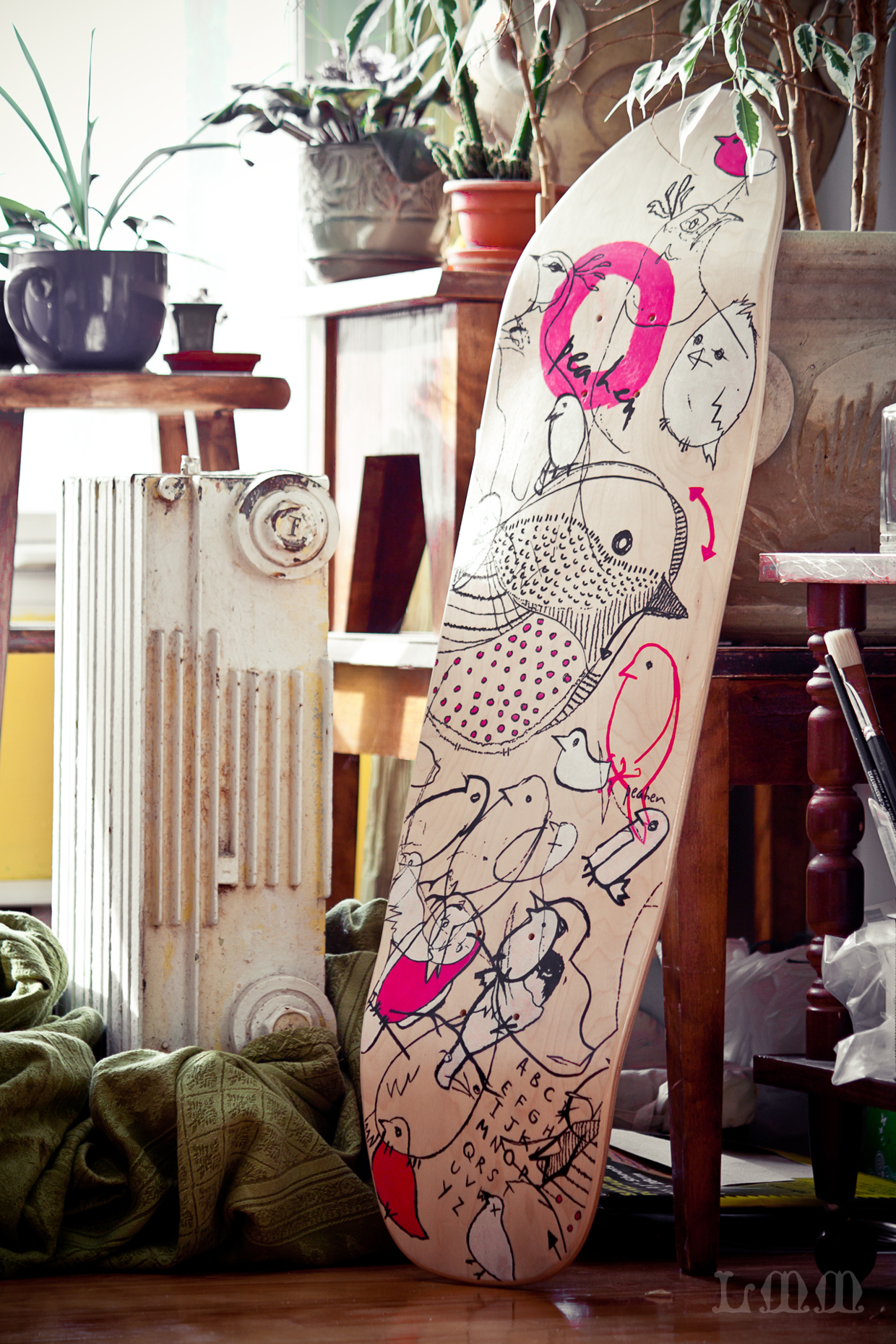 Connie Converse Cover
Some time in the winter of 2012, I recorded a cover of a Connie Converse song. A media studies grad student in New York, by the name of Andrea Kannes, has put together a documentary on the little-known folk musician, and has posted the song on her website. Check out the recording at this link.
o&AL
@olenkalovers